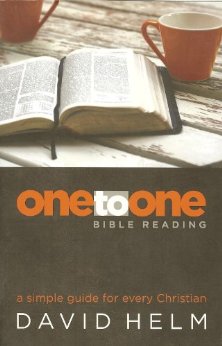 When we talk about "Bible study," we usually refer to one of these two things: small group discussion or personal time with God. People study the Bible alone, or they study it in gaggles. But David Helm, in his short but wonderful book One-to-One Bible Reading, offers another option–that of studying the Bible with someone one-on-one.
It only makes sense. One-on-one meetings are more common, more personal, more interactive, and more individually tailored than any other type of meeting. One-on-one meetings can produce intimate friendship and vigorous dialogue. Most people are used to them and take part in them regularly with friends, neighbors, and coworkers. But many people don't think of reading the Bible in such settings.
As the book states, "The Bible really is a book you can read and understand–including in a one-to-one context. You don't need someone else to tell you what the Bible is saying. You can simply sit down with a friend and read it together, and hear God speak."
In the US, we're used to saying "one-on-one" rather than "one-to-one," but don't let that difference turn you off to this book. I highly recommend it.
Helm references a survey conducted by Ed Stetzer where people were asked whether they would be willing to study the Bible if a friend asked them to. For respondents age 30 and above, 42% said yes. Among 20-somethings, 61% said yes. Among these younger generations, people show greater interest in reading and discussing the Scriptures with people they know. This fact provides a great opportunity.
Is there someone you've been reaching, whom you'd love to introduce to Christ? Have you tried inviting them to church, but they haven't been interested? Perhaps you could ask this person to meet over coffee for a few weeks to read and discuss the book of Romans.
Do you know a new believer in your congregation who hasn't made many friends yet? Would she benefit from a low-pressure situation where she can discuss the Bible and learn to understand it better?
Maybe you serve in a particular role in your church. Can you think of someone you could train to help out or take over? If so, could you pass on the biblical principles that drive you in your decisions? Can you train the person not only to do the job but also to think biblically about it?
Helm shows how one-on-one Bible study works with both Christians and non-Christians, of any maturity. And he goes on to explain how to do it. He walks through meeting dynamics and sample discussion questions. He does it all in 75 pages and a few appendices.
It won't take long to read, but this book will increase your confidence that you can teach God's word to others. Check it out!
Disclaimer: The link above is an affiliate link, so if you click it and buy stuff from Amazon, you'll support our site at no extra cost to yourself.