23Most of us are blindw to how typographical conventionsx affect the way we read something. And we're reading things, 24all the time!y But we train ourselves to ignorez the clutter and skimaa the words on the page or screen, 25and who knows how much we
missbb in the processcc? Jots like foot—notesdd, cross-references, and 26verse numbers aren't present in most things we read. But we've learned to treat the Bibleee different than any other book. 27And this is not always to our advantageff gg hh.
I'm going to drop the annoying clutter now. Why? Because it gets in your way and decreases your motivation to keep reading.
Thanks, in part, to these typographical conventions, modern Bible readers have been well-trained not to read the Bible. We sample the Bible. We dabble in its teachings. We memorize verses. We support our theological convictions with proof texts.
But if we want to read something, we pick up a newspaper or fantasy novel. We'll spend hours and hours reading all kinds of things, but how many of us handle the Scriptures only in 10-minute spurts?
For a few years now, I've encouraged readers to throw their caution to the scorching east wind and indulge themselves in the sumptuous delight of extended Bible reading. The challenge was always finding an edition of the Bible actually conducive to extended reading.
Two years ago, Crossway took a major risk and released the ESV Reader's Bible (cloth and TruTone). Finally, we had a Bible meant to be read. With no verse numbers, section headings, footnotes, or cross-references, we had ascended the peak of Pisgah and could see 'cross the river into a good land, a rich land.
But… As I wrote in my review, while the ESV Reader's Bible was a great cause for celebration, it was still only "almost" how the Bible was meant to be read. I had a few minor beefs with it, some of which I believed to be outside of Crossway's control:
Impossibly thin paper
Chapter numbers
Song of Solomon stage cues
Dealing with beefs 2 and 3 would certainly lead us to glory. But beef #1 was admittedly impossible. As I wrote, "I'm not sure how else they could have fit 1825 pages into a single volume. This page formatting holds fewer words per page than typical Bible typesetting, and something has to give to manage the physical thickness." If they could do the impossible, they just might take us into the third heaven.
And They've Done It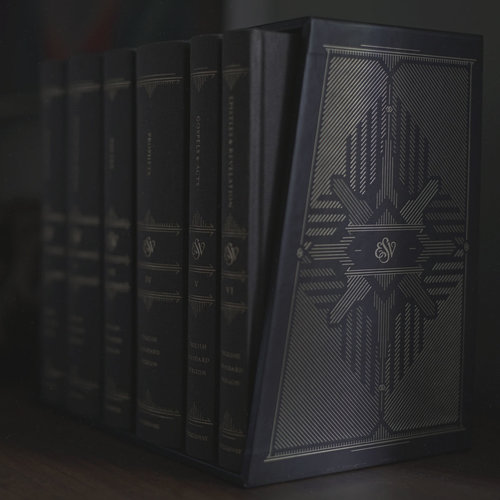 Crossway did something I never would have expected two years ago. What was impossible for one volume, they did by publishing the Bible in six volumes, "that the Word of God might be treasured for a lifetime."
The paper is thick and solid, just like any other book. The page layout has plain text in paragraphs or stanzas, just like any other book. It has page numbers at the bottom and brief headings at the top, just like any other book. This wonderful edition of the Bible is pleasing to the eye, sturdy in cover and binding, and comfortable to hold for long periods of reading. Just like any other book.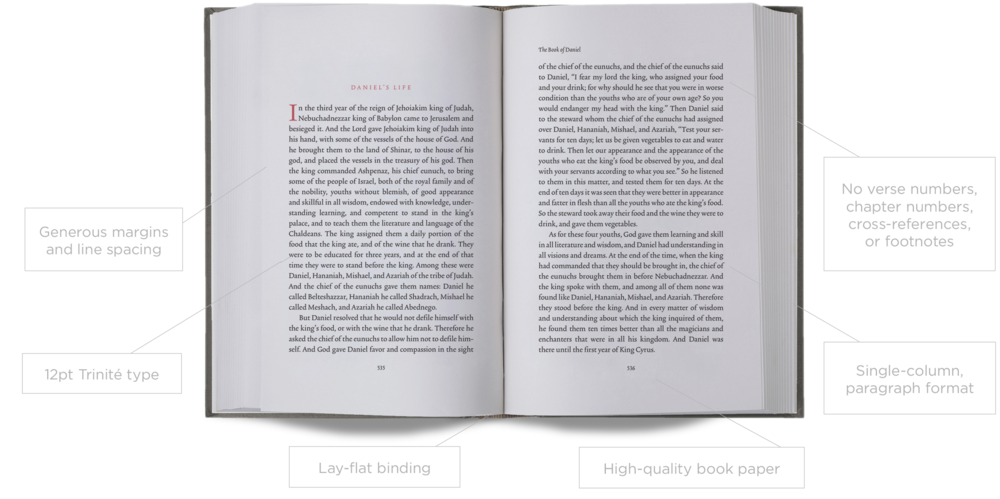 Fancy that. An edition of the Bible that entices you to sit and read. For a time, you might lose track of time. You might forget your to-do list. You just might set aside some of those cares you perpetually carry around. And this Bible promises abundant delight within its pages. You won't carry this thing around in a backpack; it's not meant to be portable. It will sit on a shelf or on your desk, and you won't be able to keep your hands off it. This edition isn't cheap, either, because it embodies Crossway's vision "that the Word of God might be treasured for a lifetime."
So far, in the copy Crossway gave me (in exchange for an honest review), I've read only a few books of the Bible. But I must say this has been the most enjoyable time I've ever had reading God's word. I couldn't recommend this edition any more highly.
You can pick up this marvelous cloth-over-board set at either Westminster Books or Amazon. For the most serious collectors, Crossway's website also allows you to order the cowhide-over-board edition. Both are limited editions, and they won't be available forever.
Odds and Ends
I'm calling this review "Part 1" because it has my impressions after only a few days of use. I plan to use these 6 volumes for my annual read-through beginning on January 1. Expect part 2 of the review to come early in the Spring after I've read the entire set.
Also, you can expect another Bible reading contest on the blog this year. You won't have to finish the Bible before me; you'll just have to read the entire Bible between January 1 and March 31. If you do, you can enter our drawing to win a free copy of this six-volume Reader's Bible!
---
Disclaimer #1: Links to Westminster Books and Amazon are affiliate links, so if you click them you'll grant this blog a small commission and thus feed our addiction to extended Bible reading.
Disclaimer #2: It is a fallen world, and no one but the Lord Jesus is perfect. My proof of this? The 6-volume set fixes my beefs #1 and #2. But, alas, beef #3 remains. I guess you can't have everything.