If I had a drachma for every new Christian children's resource that disappointed me, I'd be about as wealthy as that second guy in the parable of the talents.1 I don't want to be overly negative, but let's please face the brutal facts of this present evil age. Some resources are all hip and no guts. Others are so theologically self-conscious they can't avoid sounding pretentious. Yet others are simply ugly or shoddy. As our Master rightly lamented, "The sons of this world are more shrewd in dealing with their own generation than the sons of light" (Luke 16:8).
And with what shall we compare the delight that erupts when a new resource defies all expectations of mediocrity, planting itself firmly in the soil of young readers, unto the bearing of much good fruit? I'll tell you. It shall be like the olive harvest on the 15th of Tishri.2 I'm pleased to recommend one such resource to you.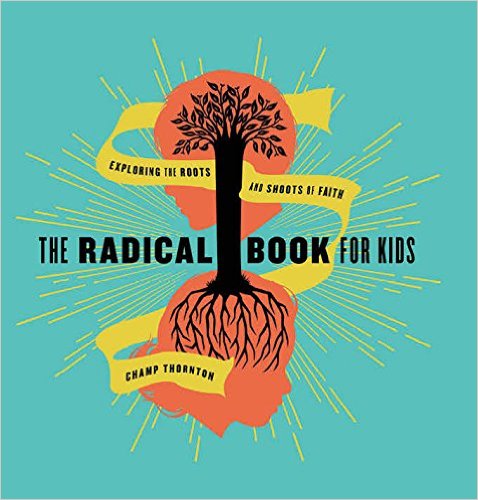 The Radical Book for Kids: Exploring the Roots and Shoots of Faith is something of a handbook of the Christian faith for 8-14 year-old kids. With its large size and stunning production quality, it looks and feels like a coffee table book. But it's the type of coffee table book that's more fun than a homemade catapult.3 Kids and their parents won't be able to keep their hands off it, nor would they want to. This book's 67 short chapters cover a wide, and somewhat random, spectrum of topics ranging from character development to church history to science and theology to practical Christian living to Bible reading skills.
And it's that last category that interested me the most. How does this book do at helping young people learn to study the Bible for themselves?
Chapter 1 demonstrates the value of being able to summarize the Bible's teaching, and then it offers such a summary in one sentence: "Through Jesus, God is restoring everything that sin ruined." Chapter 2 then describes "How to Understand the Bible" by concisely explaining all the main genres of Bible books. Later chapters return to each genre, offering suggestions on how to get the most out of studying them:
Chapter 8 on the Pentateuch
Chapter 11 on narratives
Chapter 28 on wisdom literature
Chapter 34 on the Psalms
Chapter 41 on the prophets
Chapter 56 on the gospels
Chapter 59 on the epistles
Along the way, there are chapters on how to read the Bible every day, how we know the Bible is true, famous trips in the Bible, jewelry in the Bible, money, the calendar, animals, and many more. One chapter offers single-sentence summaries of all 66 books of the Bible, and another recounts the full plot line of the whole Bible. Each of these chapters delivers accurate truth winsomely, motivating readers to dive into the Scripture themselves.
Now these chapters won't satisfy someone looking for a graduate-level education, but they are just great for 8-14 year-olds and their parents. And because parents aren't perfect,4 I must make two confessions:
I stayed up late reading the book for this review, and not because I was running out of time.
I was surprised by how sad I was when I finished the book. I would love more of it. Lots more.
This book is deep, meaty, biblical, beautiful, delightful, and very sturdy. This thing is ready to take a beating and continue delighting more young disciples.
Champ Thornton has done a great work in writing this book, and New Growth Press has done a great work in producing it. I can't wait for my kids to grow into it, and I'm happy to recommend it to you.
---
1You'll have to read chapter 49 of The Radical Book for Kids to see exactly how wealthy this would make me in modern American currency.
2You need to read chapter 18 to get this one.
3Chapter 65 this time.
4A marvelous chapter 38.
Disclaimer #1: Should a Canaanite with a sickle sword (see chapter 65) visit these here parts, he'll want to know I notified you all that "New Growth Press generously provided a free copy of the book in exchange for an honest review."
Disclaimer #2: Because God is my boss (see chapter 44), integrity demands I disclose the fact that clicks of Amazon links and resulting purchases will provide a small commission at no extra cost to yourself. That way, I can continue learning my Hebrew (chapter 16) and Greek (chapter 52) alphabets.