In the first review, O God-lover, I have dealt with all that Crossway began to conceive and risk, until the day they presented the world an utterly uncluttered, heretofore unseen, edition of God's word. They showed us a living and active book, appearing to the populace just like any other book, yet speaking about the kingdom of God. And just as this edition's first eyewitnesses delivered many opinions to us, it seemed good to me also, having now read every page of the 6-volume set, to write an orderly account for you, most excellent Theophilus, that you may have certainty concerning whether this literary wonder should grace your shelves.
For the facts about the physical books, page layout, and specifications, please see my first review. For reflections on the reading experience itself, read on.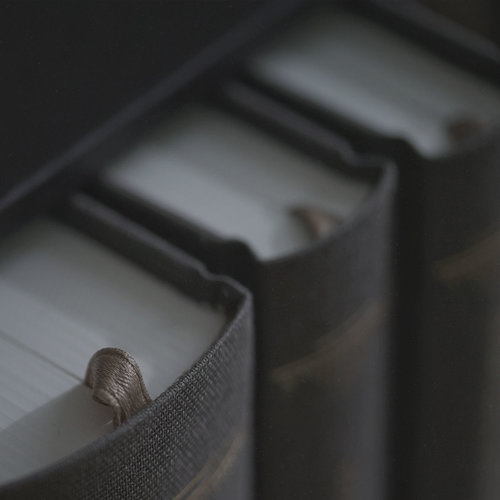 The Bible tells a story
I wouldn't be surprised if you've heard it before: The Bible tells a unified story, beginning to end, of God's glorious rescue, through Christ, of his fallen creation. But, though you're familiar with the idea, do you read the Bible like a story? That is, do you read the Bible the way you would read a story? Beginning to end. Pages at a time. Devouring the drama. Anxiously awaiting the next plot twist.
Most people read the Bible like an encyclopedia. Or like a menu. Or like a codebook. And most Bible typesetting encourages us to read the Bible in these ways.
But the clean look of the ESV Reader's Bible, 6 Volume Set expects you to read the Bible as you'd read any other book. It encourages you to keep reading and reading. There are no big black numbers coercing you to a screeching halt every few verses. There are no verses. You can't snack on this thing. All you can do is binge.
And if you get into a theological debate with someone, and this edition is all that's handy, your only recourse to objection is to read (or tell) a story. Sort of like what Jesus did when he faced opposition…
The Poetry drips with glory
I've often struggled with the Bible's poetry. It often just doesn't connect with me the way I hear it does for other people. But that has always surprised me, because I have no problem enjoying other poetry. I've read Shakespeare, Longfellow, and others to great profit. And I've grown to love Proverbs and Job, but Psalms and the Prophets are hard, hard going.
And I now wonder how much my struggle has to do with the typesetting more than the content.
In reading the 6-volume set, I could not put the Psalms down. The Prophets were still challenging, but they felt more…personal. It's amazing what happens when you get the verse numbers, excessive footnotes, and narrow columns out of the way. Volumes 3 (Poetry) and 4 (Prophets) look and feel like other poetry collections. They sit nicely in hand, invite a nightcap, and call for extended reflection. I know I could read the Psalms meditatively in any version of the Bible, but the reader's set basically begged me to do so.
Reading the Bible is fun again
As a child and pre-teen, I loved to read. And I learned young that, if I wanted to read the Bible, my best option was to take up a story Bible. The Bible itself was for study, preaching, or classes. Lengthier consumption—you know, the kind done after hours under the covers with a flashlight—was reserved for the "interesting," the "engaging" re-tellings of biblical tales in children's Bibles or youth story books.
But discovering God's word, as presented in the ESV's 6 Volume Set, rekindled a joy in reading God's word like I have never experienced. Perhaps this set might do the same for you.
Conclusion
You can tell this review is not so much about this specific edition of the ESV, as it is more about the philosophy that birthed said edition. This philosophy ought to be shouted from the mountaintops. I hope this experiment of Crossway's provokes a revolution among Bible publishers. I hope we see a similar reader's edition for every translation. Since the ESV set, one has been published for the KJV. I'm aware of both single-volume and multi-volume reader's Bibles coming this spring for the NIV. Perhaps more are on the way.
I doubt we'll ever lose our unreasonably cluttered editions of the Bible altogether. They are useful, after all, for study, preaching, and classes. But I hope new generations of Christians can be brought up learning to simply read the Bible. It is, after all, a book. Or 6.
ESV Reader's Bible, Six-Volume Set. Get it at Amazon or Westminster.
---
Disclaimer: Amazon and Westminster links are affiliate links. If you click them and buy stuff, we'll get a small commission, thus enabling our ongoing Bible reading binge.