Editor's Note:
We are delighted to publish guest writers who come from different sectors of Christianity—and who reach different conclusions—than we do, as long as they share our
assumptions
and wrestle directly with the biblical text. Talbot's arguments are worth considering, even though we differ with some of his conclusions.
I have been reading the New Testament for a long time, but I realize that I am only now learning how to read its epistles correctly. And to read the New Testament well, you need to read the epistles (Romans, I & II Corinthians, Galatians, et al) accurately.
Here's what I've recently discovered: For years, I have read those documents as if they are examples of modern American letter writing. But that's not what they are. They are instead examples of ancient Greek speech-making. And there is a world of difference between those two genres.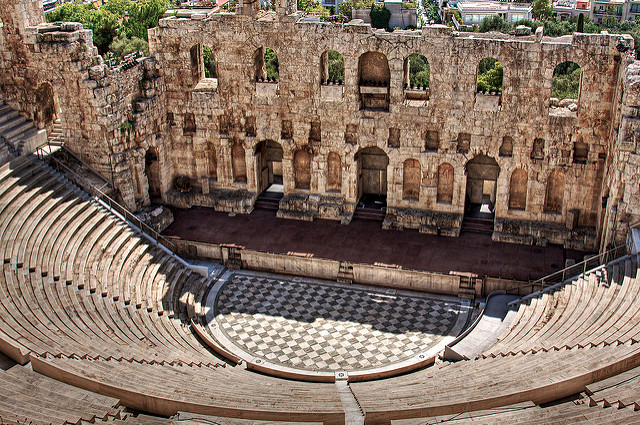 One of the best texts to observe what I'm talking about is the beginning of letter to the Ephesians. Check out the opening twelve verses, keeping in mind that Paul is himself Jewish, while Ephesus, in modern-day Turkey, is populated primarily by Gentiles.
And keep in mind that Ephesians was dictated before it was written, and that, when delivered to Ephesus, it was read out loud before ever being studied in silence.
Notice in particular all the references to "us" and "we" in this section.
1 Paul, an apostle of Christ Jesus by the will of God,

To God's holy people in Ephesus, the faithful in Christ Jesus:

2 Grace and peace to you from God our Father and the Lord Jesus Christ.

3 Praise be to the God and Father of OUR Lord Jesus Christ, who has blessed US in the heavenly realms with every spiritual blessing in Christ. 4 For he chose US in him before the creation of the world to be holy and blameless in his sight. In love 5 he predestined US for adoption to sonship through Jesus Christ, in accordance with his pleasure and will— 6 to the praise of his glorious grace, which he has freely given US in the One he loves. 7 In him WE have redemption through his blood, the forgiveness of sins, in accordance with the riches of God's grace 8 that he lavished on US. With all wisdom and understanding, 9 he made known to US the mystery of his will according to his good pleasure, which he purposed in Christ, 10 to be put into effect when the times reach their fulfillment—to bring unity to all things in heaven and on earth under Christ.

11 In him WE were also chosen, having been predestined according to the plan of him who works out everything in conformity with the purpose of his will, 12 in order that WE, who were the first to put OUR hope in Christ, might be for the praise of his glory. (Eph 1:3-12, NIV)
If you read this according to the rules of modern American letter writing, all the "us" and "we" references are a way of including you, the reader, into what the author is saying. So those who are modern American Christians assume from the beginning that Paul is including the original Ephesians as well as the current readers into these opening words.
Except that's not what he is doing. Remember: Ephesians is not an example of modern American letter writing. Instead, it is ancient Greek speech-making.
And in the argument Paul builds for Ephesians, WE and US refers to Paul and his kin: the Jews. You get the gist of what he is doing if you imagine that he is standing on a platform with two fellow Jews addressing a room full of Gentiles. And with each "we" and "us" he points to his Hebrew colleagues on the stage.
Verse 12 is especially critical to this understanding: "We, who were the first to put our hope in Christ . . . " Who were the first to hope in Christ? Not the Ephesians! Meaning this section can't be inclusive. Instead, Romans 1:16 tells us who were the first to hope in Christ: "For I am not ashamed of the Gospel, because it is the power of God that brings salvation to everyone who believes: first to the Jew, then to the Gentile."
A-ha!
(By the way, understanding that "we" are the Jews and not the broader, fledgling Christian community goes a long way to explaining all the references to predestination and to being "chosen." Well, yes. That's how we understand God's relationship with Israel.)
Back to Ephesians. After that lengthy opening section with all its focus on "we" and "us," everything changes at 1:13:
13 And YOU also were included in Christ when YOU heard the message of truth, the gospel of YOUR salvation. When YOU believed, YOU were marked in him with a seal, the promised Holy Spirit, 14 who is a deposit guaranteeing OUR inheritance until the redemption of those who are God's possession—to the praise of his glory. (Eph 1:13-14, NIV)
The transition from "we" to "you" is instantaneous, dramatic, and purposeful. Imagine that Paul suddenly points to his audience: AND YOU (Gentiles!) WERE INCLUDED IN CHRIST JUST LIKE WE WERE!
It's a compelling example of ancient Greek speech-making, not modern American letter writing.
From the beginning, then, Ephesians is about this divine fusion of "we" and "you"; the creation of something brand new out of "us" and "them."
If you naively assume that "you" are included in the "we" of the first twelve verses, you miss the entire point of the book.