If you're in the market for gifts to encourage Bible study, here are my top recommendations. I've reviewed most of these products on this site at many times and in many ways, but here they are in one place for you.
Bibles
---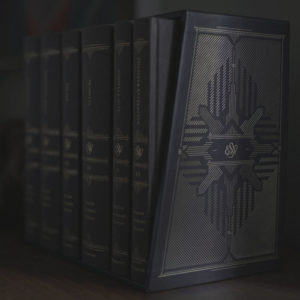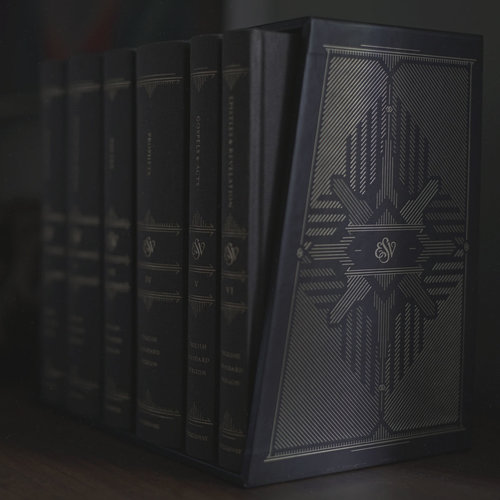 You can't beat a good Bible. My top recommendation is to get yourself or someone you love one of the best editions of the Bible to hit the western world: the ESV Reader's Bible, 6 Volume Set.
Get it at Amazon | Westminster
---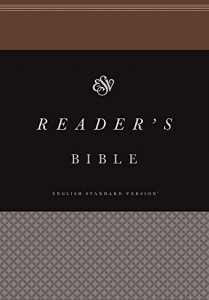 If 6 volumes seems too much to you, the single volume ESV Reader's Bible is still well worth picking up.
Cloth over board: Get it at Amazon | Westminster
TruTone: Get it at Amazon | Name your price/donation at Westminster
---
Reader's Bibles are arriving with increasing frequency in other translations as well. Watch the next few weeks for my reviews of the CSB, NIV one-volume, and NIV 4-volume.
---
Study Bibles
There are so many options. See my buying guide for recommendations about which ones succeed at promoting OIA Bible study.
---
Markup Bibles
For something you can write in with greater ease, see our recommendations.
Bible Study
---
For a snapshot of the OIA process, see this blog post.
---
For a little more explanation of the principles, see our free booklet.
---
To go even further, with lots of illustrations, examples to follow, and exercises to practice, see One-to-One Bible Reading or my book Knowable Word.
---
If you're familiar with the OIA model, and you'd like to hone your skills to perfection, consider getting Methodical Bible Study by Robert Traina. This book is dry and doesn't tell many stories. But it's delves the depths of the model like nothing else.
---
Leading
If you'd like to grow as a Bible study leader see my blog series or Colin Marshall's terrific book Growth Groups.
---
Commentaries
See our page with recommended commentaries that promote OIA Bible study skills. I don't have recommendations for every Bible book yet, but I update this page as I come across helpful volumes.
---
Software
I still happily recommend Logos Bible Software, as it has drastically improved the speed and quality of my Bible study. See my review for details. Also see Ryan's review of E-Sword free software.
Children's Resources
The best thing you and your church can do for your children is to buy them a Bible and teach them to use it. In my household, that means we buy ESV pew Bibles (the cheapest we can find) almost by the case. These things will get beat up and need to be replaced often, so there's no use in getting the authentic-porpoise-leather-imported-from-Mars-heirloom-editions just yet.
---
When children are first learning to read, I've found it helpful to give them the NIrV. This builds their confidence in reading the very words of God in their own language. Remember, the story Bibles are good, but God's undiluted word is even better.
---
And before dipping into the supplemental resources below, perhaps you'd consider printing out a few simple devotional pages for your kids, so they can explore the Scriptures for themselves before hearing what others have to say about the Scriptures.
---
Ages 0-2
The Big Picture Story Bible – A marvelous overview of the Bible's rich storyline: The people of God under the rule of God in the place God gives. Get it at Amazon | Westminster
Read Aloud Bible Stories – Brief Bible stories that draw in young children, letting the children know these are their stories. Get it at Amazon.
---
Ages 3-5
The Gospel Story Bible – Retellings of 156 Bible stories, synchronized with the Gospel Story for Kids curriculum, and devotionals Long Story Short and Old Story New. The best part of these stories are that much use is made in the retelling of the actual text of Scripture. Get it at Amazon | Westminster
The Jesus Storybook Bible – Gripping gospel focus, though it sometimes seems to suggest that Bible stories are not meant to serve as examples (contrast with 1 Cor 10:6, 11, etc.). Get it at Amazon | Westminster
---
Ages 5-7
Mark's Marvellous Book – I still hope this becomes more of a trend: A children's story Bible that follows the shape and themes of a book of the Bible (rather than cherry-picking certain stories, ignoring the fact that they were written to an audience in a context). See my review. Get it at Amazon | Westminster
The Big Picture Story Bible – A marvelous overview of the Bible's rich storyline: The people of God under the rule of God in the place God gives. Read this to your kids at ages 0-2; then have them read it to themselves at ages 5-7. Get it at Amazon | Westminster
---
Ages 8-14
The Radical Book for Kids – This is the kind of gift you get for your kids, but it's also, sort of, partly, perhaps, for you. You know, like Legos, football tickets, or family room surround sound systems. It's an engaging and delightful handbook of the Christian faith. See my review. Get it at Amazon | Westminster
---
Family Devotions
I highly recommend the series of devotionals by Marty Machowski. These volumes don't merely communicate Christian truth, as important as that is; they train children to study the Bible and find that truth for themselves. In addition, the "daily" family devotions take only 5 days/week, and they truly take only 10 minutes per day. The payoff is high, but the price of entry is low. This makes it more likely you'll be able to stay consistent with them. Every volume in this series has the same high quality; each also has the same basic structure for each day's devotion. See my review.
Happy gift shopping!
---
Disclaimer: Links in this post to Amazon, Westminster, or Logos are affiliate links, which means this blog receives a small commission when you click those links. Doing this helps us to cover our costs, enabling us to continue recommending decent resources. Thank you.