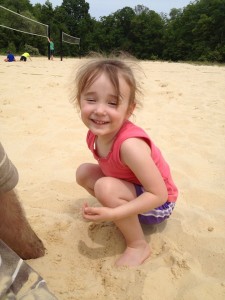 OIA Bible study works for anyone of any age, because it simply codifies how all communication works. In another post, I gave some tips for teaching it to 2-year-old children. Now we graduate up to the 4-year-olds.
I've taught the 4-5 year-old Sunday school class at my church for over a year now. I'm delighted by how much these kids can understand. When class goes poorly, I'm tempted to blame the kids ("boy, they were really wound up this week!"). But often, the class falters because I've failed to communicate the exciting drama of God's Word.
When has the class been most successful? Here's what I've learned.
1. Read the Bible
Children's story Bibles are great (some of them, at least). They're the training wheels that help the kids get started. I really respect The Jesus Storybook Bible and The Gospel Story Bible for 4-year-olds.
But always, always, always read the Bible as well.
I'm tempted to think they won't get it. But they get it when we explain it (see #3 below).
I'm also tempted to think they don't have the attention span for it, and I need to read a "condensed" version of the story. But, for example, the tower of Babel story in Genesis 11 has 222 words in the ESV. The Gospel Story Bible uses almost 450 words for this story, and The Jesus Storybook Bible has over 530. Which one is more likely to push the limits of the children's focus?
2. Situate the Text
One goal is to get the children comfortable with the Bible. So, every week in Sunday school, we discuss what book of the Bible the story comes from.
Then we sing two songs – one for the Old Testament book titles, and one for the New. The children raise their hands during the song when we get to the book that contains this week's story. It's a treasure hunt, encouraging them to sing along and listen carefully.
In this way, the children have memorized all the books of the Bible, and they've become comfortable with the basic arrangement of books.
3. Clarify the Point
This point may have the greatest effect on the quality of my class.
Some of our best classes covered unusual topics like the temple or Nehemiah building the walls of Jerusalem. Other highlights covered more familiar stories like baby Jesus and the shepherds, Elijah on Mount Carmel, or Daniel in the lions' den.
But there was a common thread running through each successful class: I understood and was clear on the point of the Bible story.
Certainly the stories themselves have great value. We need to know our family's history. We must pickle in the tales of their ups and downs.
But the stories are all there for a reason. God wants to introduce these 4-year-olds to the Hero of the story. He exposes their need for a Hero. And he satisfies their desire for a Hero.
These kids keep me honest. They won't let me get away with a dumb answer. They'll keep asking "why?" until I start to make sense. Good for them.
4. Focus on Jesus
He is the Hero. The whole Bible is about him. Any Bible class that doesn't climax with Jesus is a failure.
These kids don't need to be able to win Bible Quiz bowls. They don't need to be good kids.
They need to trust in Jesus as their only hope for life. Let's help them get there.
5. Visualize the Story
Visualization helps the children to exercise their observation muscles. We can put ourselves into the story and relate to the characters when we see what it was like for them.
We can show illustrations. We can use flannel figures. We can ask questions.
In our class, we like to act the story out. It gets us up and moving around. Sometimes we get a little rowdy, but that's okay. If we run out of main characters, children get to play the parts of trees, chairs, rivers, or lions. We've built towers to the ceiling, and we've struck rocks to get water.
These little ones are precious to the Lord. He wants to know them. Will you help?
UPDATE: This post actually focuses on teaching children the Bible. For more help teaching them Bible study, see the next post.
Disclosure: the links above are affiliate links, so if you click them and buy stuff from Amazon, you'll help to support our site at no extra cost to yourself.
Thanks for visiting Knowable Word! If you like this article, you might be interested in receiving regular updates from us. You can sign up for our email list (enter your address in the box on the upper right of this page), follow us on
Facebook
or
Twitter
, or subscribe to our
RSS feed
.