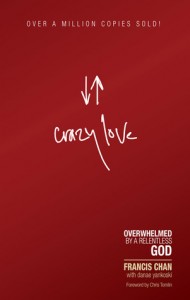 Have you ever had this conversation?
What do you have going on tonight?

I'm going to Bible study.

Oh, great! What part of the Bible are you studying?

Francis Chan's Crazy Love.
Now, I'm no Chan-hater. I've never read his book, and shame on me for it.
But let's be honest. A discussion of such a book is not really a Bible study. Why not call it a book discussion group or a reading group? Why "Bible study"?
With this post, I'm launching a new series about how to lead a Bible study. In this series, I'll assume you already know how to study the Bible for yourself, and I'll give more specialized tips on how to lead others in Bible study.
I plan to write about the unique opportunities and objectives of Bible studies. I'll explain kinds of Bible studies (for both believers and non-believers). I'll give tips on how to get started, how to prepare, and how to lead a discussion. I'll warn you of the many pits I've fallen into along the way, and I'll cast vision for training others to lead after you.
Let's just make sure we're clear on definitions up front: A Bible study is a group of people who study the Bible. When I use the term "Bible study," I'm not referring to a book club. Nor to a prayer meeting, hymn sing, or revival service. Nor to a sermon or classroom lecture. I'm thinking of a group of people (could be small or large) who are actively engaged in mutual study and examination of the text of Scripture.
And while such Bible studies may occasionally involve using a pre-packaged study guide or curriculum, I propose that the best studies will be unmediated. That is, we train people to study the Bible itself and not only what others have said about the Bible.
Of course, we shouldn't ignore what others have said about the Bible. We're a part of the community of faith, and we're not so much better than everyone else that we can study the Bible in a vacuum and have a corner on the truth. But we must always—yes, always—again, I repeat, always—evaluate what others say in light of what the text says. If we never learn how to know what the text says, we're no different from the blind leading the blind. And, well, I hope you know how that will end up (Luke 6:39).
———————
Disclaimer: If you plan to lead a book discussion on Crazy Love, and you'd like to help cover this blog's expenses at no extra cost to yourself, please click one of the affiliate links in this post and buy stuff.